All about the Mindful Parenting eBundle
The Mindful Parenting eBundle contains more than 20 carefully selected e-products by renowned authors. Some of these products are only available as a standalone through this bundle! This bundle sale is a one-time opportunity, available only from May 28 to June 10, 2013.
The Mindful Parenting eBundle gives you answers to the most pertinent parenting questions in a variety of formats: e-mail courses, e-books, audio, and e-magazine. Some of the topics in this bundle include children and food, nurturing creativity, relaxation for parents, connecting through play, peaceful parenting, parenting through divorce, and many more.
22 eProducts with a total value of over $274 USD. That's approximately $1.13 per eProduct! There are 3 resources for stress relief for parents, 6 peaceful guidance tools, 5 creative play resources, 3 motherhood resources, plus bonus resources and a freebie!
What is in the bundle?
1. Relaxation Meditation (audio)
Amy Phoenix (Presence Parenting), value $50 US/lifetime access.
Product description: Relaxation Meditation helps you access inner awareness and resolve, cultivating the space for true, lasting transformation. Relax into parenting as you enhance your relationship with yourself, your child, and life at the same time.
About the author: Amy Phoenix, mom of five, trained meditation facilitator and recovering control-freak, shares a simple, practical experience for true relaxation and self-reflection to help you parent on purpose (instead of from reactivity).
2. Newbie's Guide to Positive Parenting
Becky Eanes (Positive Parents), 30 pages, value $1.99 US
Product description: The Newbie's Guide to Positive Parenting is an introduction to the philosophy of positive parenting. It addresses what positive parenting is, and what it is not (permissive parenting). It discusses how to change your mindset from the traditional paradigm of control and fear to the positive parenting paradigm of connection and love. It gives you teaching tools and discusses the differences between consequences, punishments, and problem-solving. Finally, it goes over enforcing limits without punishments and 10 alternatives to punishments as well as 10 things that are more important than discipline.
This eBook will give you clarity on positive parenting and offer you tools and skills that will strengthen your relationship with your child while teaching values and instilling the self-discipline that will benefit your child for a lifetime. The Newbie's Guide to Positive Parenting provides several scenarios so you can see how positive parenting principles are applied in everyday situations.
3. Play Grow Learn, Issue 3
Christie Burnett (Childhood 101), 55 pages, value $4 US
Product information: Bursting with ideas for playing inside and outside, with activities for moving, talking, cooking, creating, thinking, singing, imagining and constructing, Play Grow Learn is a downloadable e-zine that provides both inspiration and information for parents and educators of children from birth to 5 years.
Issue 3 includes over 100 playful activities including play suggestions for toddlers, an outdoor math hunt, ideas for exploring science in the kitchen, woodwork activities perfect for kids, an exclusive full colour set of printable puppets to get you singing with your kids PLUS art projects, book reviews, toy suggestions, playful parenting ideas, tips for making pack away time fun…and more!
4. Getting Back on Track! – Why We Explode and What We Can Do About It (audio)
TELESEMINAR audio with Genevieve Simperingham (Peaceful Parent Institute) and Patty Wipfler of Hand in Hand Parenting , value 7,58USD
Product description: Listen to this audio to gain lots of insights into the tendency to meltdown, why it happens, how to see it coming and what to do instead of yelling or otherwise acting from a place of overwhelm and frustration. You'll gain reassurance that it's much more common than you thought, that it's not your fault, but it is your responsibility.
You'll learn that there are psychological triggers going back to childhood at the core of your tendency to lose your cool. And most importantly you'll gain lots of great tips and strategies from Genevieve and Patty that will make it so much easier to be the peaceful parent that you know that you really can be.
5. Stress Relief for Parents (audio)
Genevieve Simperingham (Peaceful Parent Institute), value $4.05 USD
Product description: When you're at your wits end and need to rest and recuperate, this CD is a fantastic resource ~ Grab yourself fifteen minutes or so, choose your track and let Genevieve's calming voice and supportive words guide you back to your self … back to your centre … back to balance … back to you at your best … back to peaceful parenting!
The track "Bliss" takes the listener through a 15 minute deep body relaxation. Genevieve's soft Irish lilt backed by the celtic harp offers a soothing balm to their feelings and played at night next to their bed will ease their transition into a deep and restful sleep. Other tracks offer guided exercises that guide and teach the listener to centre and return to a calm balanced state and a warm connection with their child.
6. Creative Play Workshop (email course)
Gina Kimmel & Katherine Lockett (Connecting Family and Seoul and Creative Playhouse), value 25USD
About the authors: Gina is a stay-at-home mom to Grady (2.5) and has recently moved back to her hometown in Pennsylvania. She started blogging in 2011 as a way to record her family's memories and share ways to foster connections through play and inspiration. She received her B.A. in Sociology and a M.Ed. in Elementary Education. Prior to becoming a SAHM, Gina taught 4th and 5th grade in the public school systems. To learn more about Gina, click here.
Kat is a work at home mum of 2, to Jake (3) and Poppy (1), and hails from the UK. She blogs creatively about her two passions, play and parenting, at Creative Playhouse and her collaborative blog, Mummyology. She received her B.A. in Performance Studies and earned an M.A. in the Arts. Her background includes early years education and special needs (with a focus in autism.)

7. Mindset for Moms
Jamie Martin (Mindset for Moms), value 4,99
Product description: Mindset for Moms: From Mundane to Marvelous Thinking in Just 30 Days is a guide for better thinking and increased happiness in parenting and in life. Lessons about positivity that took Jamie years to learn, you can learn in days–30 days, to be exact.
She's consolidated the concepts in this e-book into short entries–perfect for busy moms to read and apply for immediate results.
8. Moods of Motherhood
Lucy Pearce (Dreaming Aloud), 202 pages. (November 2012) value 4,99USD
Product description: A compilation of her best-loved posts on motherhood from her popular blog, Dreaming Aloud, columns from JUNO magazine and many new pieces, never before published. According to one reader, "This book puts the mother, back in motherhood". "It is no ordinary parenting book" but full of her trademark searing honesty and raw emotions. It will make you laugh, cry and feel deeply accepted – wherever on your mothering journey you may be.
Topics include: pregnancy and birth, happy days, anger and fierceness, sleep, playfulness, grief, love, patience, tenderness, homemaking… it is illustrated throughout with beautiful black and white photographs.
9. 42 Rules for Divorcing with Children
Doing it With Dignity and Grace While Raising Happy, Healthy, Well-Adjusted Children
Melinda Roberts, value 19,99USD
Product description: 42 Rules for Divorcing With Children offers practical ways to manage a healthy divorce, build a better team in two houses, minimize stress and anxiety on all fronts, and construct relationships with open and consistent communication. In this book you will learn:
What putting the children first really means.

How to preserve marital assets for you and your children.

How to set reasonable ground rules for the divorce and going forward.

How to set a respectful communication example so that you can divorce with dignity.
Use this book as objective advice, refer to it often, share it with others, use it as a reality check, and realize that divorce is not linear and that damage is not permanent or irreparable. If you do this well, the other parent will always be in your life. Find a way to make that tolerable for everyone, because no matter where you go or what you do, your children are tethered to both of you in an incredibly delicate and important way. Learn to accommodate each other as a gift to your children while they grow. Share others' success stories for simple, practical advice and insights. See how taking care of yourself will help you take care of your family and prevent divorce remorse and divided loyalties. Set good examples that will help them make their own relationship choices wisely by drawing on your positive experience. And for you, know that someday, somewhere, you will almost certainly find a partner with whom you can have a mutually respectful, loving, and responsible relationship.
10. Nurturing Creativity, Guide for Busy Moms
Renee Tougas (Tougas Café), value 3USD
About the product: Nurturing Creativity: A Guide for Busy Moms is a book to help you grow creatively.Nurturing Creativity is about embracing the seasons of motherhood and appreciating where you are while helping you to make creativity a priority in your life.
It will encourage you to let go of perfection, to start small, and to find inspiration in everyday living. This little book will challenge you to make the most of the time you do have. Time you can spend creating beauty and meaning – with your head, heart, and hands.
11. The Playful Family
Shawn Ledington Fink (Awesomely Awake), value 4,99U
Product description: The Playful Family encourages and challenges busy parents to slow down and spend quality time together with their children, regardless of their age. With nearly 100 ways to connect, engage and play together this easy-to-read e-book is a must-have resource for any parent interested in becoming more playful and happy while raising children.
Each chapter includes dozens of ideas as well as a challenge to motivate families to put their own ideas to work in real life.
12. Poetry of a Hobo Mama, The First Three Years
Lauren Wayne (Hobo Mama), value 9,37USD
Product description: Poetry of a Hobo Mama is a collection of poems by Lauren Wayne, inspired by the initial three years of parenting her firstborn son, Mikko.
I sling my baby like a bindle on my back,
tramping along the tracks
countless feet have worn before.
Poetry of a Hobo Mama contains three years' worth of parenting poetry, written from the time Lauren and her husband, Sam, were preparing for Mikko, through watching him grow to three years old. She has included poems that speak of their natural parenting journey — breastfeeding, the family bed, elimination communication, and natural birth among them.
The book is a combination of free verse and more traditional poetry forms, and the topics and tone run through all the variations the poet felt when writing them: the grief of miscarriage, the anticipation of trying to conceive, the upheaval of the newborn months, the joy of parenting, and the balance of motherhood and personal passion.
13. Parenting for Social Change
Teresa Graham Brett (Parenting for Social Change), 158pages, value 15USD
Product Description: Parenting for Social Change: Transform Childhood, Transform the World (2011, Social Change Press) is a powerful parenting book that isn't about children, but about the harmful cultural messages we, as parents, perpetuate in our relationships with children. It addresses the work we as parents must do to free ourselves, the children who share our lives, and our world from those harmful messages.
The author, Teresa Graham Brett, uses current social science research to debunk the myth that controlling children is necessary to ensure they grow up to be healthy and responsible adults. She demonstrates how changing our parent-child relationships plays a critical role in creating social change. More importantly, it gives parents strategies and tools for letting go of harmful control of children.
14. Encouraging Words for Kids
Kelly Bartlett (Parenting From Scratch), value 3,48USD
Product description: Encouraging Words for Kids gives parents over 150 examples of phrases to say that inspire a child's confidence and self-motivation. Encouragement is about drawing forth a child's own drive to work hard and do what's right without being told; this book shows you how to get there.
It is a guide that parents can turn to again and again whenever they need a dose of inspiration in creating positive communication with their kids.

15. Raising a Creative Kid, Simple Strategies for Igniting and Nurturing That Creative Spark
Jillian Riley (A Mom With A Lesson Plan), value 7,99
Product description: Raising a Creative Kid: Simple Strategies for Igniting and Nurturing that Creative Spark is just what you need to transform your environment into a creativity growth center.
With creative exercises following each of the sections I have made moving into a creative lifestyle as easy as possible. Just like I do with everything else on amomwithalessonplan.com, I use and recommend materials that are inexpensive or free.
16. Children and Food (multimedia workshop)
Tara Wagner (The Organic Sister), value 25USD, unique opportunity! Currently only sold as part of the organic sisterhood
Product description: This mini-toolkit helps you recreate the whole family's experience with food. No more fighting at dinnertime. No more forcing or bribing. No more worrying about your child's ability to make good choices. You'll have the tools necessary to begin to release control, lean into Trust, and make mealtime a joyful and fun experience. But it starts with your own relationship with food. It includes:
72 min audio: Describes the most important principles in raising healthy children and how to begin practicing them (Value: $200)
39 page workbook: Packed full of exercises to help you DIG IN and put new traditions and experiences into place (Value: $40)
Covers everything from: how your experience with food affects your children and how to change that, how to meet the varying needs and tastes of the whole family without feeling like a "short order cook", as well as tips, ideas, strategies, recipes, and more from me and other mindful mamas.
17. Coming Of Age: How To Stop Worrying About "The Talk," and Start Talking With Your Girl! (audio)
DeAnna L'am, 41 min. audio, value 27USD
Product description: Remember "The Talk" you received from your Mom, or your school's nurse? Remember how awkward you felt listening? Wonder how you can do a better job with your girl?
If you would you like to feel relaxed, confident, and at ease when speaking with your girl about becoming a woman – this is for you!
You will experience a sense of CALM and PEACE within yourself; An INNER EASE about the girl YOU once were; A DEEPER UNDERSTANDING of what your girl is feeling; SELF-TRUST going into any conversation with your girl; And a growing EASE in your relationship with her.
This down-loadable recording will deepen trust between you and your girl, and lay a foundation for lifelong openness between you!
18. The Parenting Primer: A Guide to Positive Parenting in the First Six Years
Michelle Carchrae, value $6.99 USD
Product Description: The Parenting Primer is a guide to the main ideas and strategies used in gentle discipline. It will show you how attachment works to create harmony in families, empowering you to parent in a positive, creative way.
The Parenting Primer begins by looking at how love and limits influence our parenting, then explores other topics that affect our relationships with our children, such as information on brain development or personality, communication skills, lifestyle choices, creativity and self-discipline.
19. Mommy Overwhelm, A Holistic Approach to Parental Stress and Depression
Laura Schuerwegen (Authentic Parenting), first-time opportunity, launch sale, 27 pages, value $2.99 USD
Product description: Mommy Overwhelm is a step-stone guide for parents who want to overcome daily overwhelm, stress and depression. In this book, Laura draws from her own experience overcoming a longstanding depression to hand you the tools to heal. From strengthening foods and herbs to exercises and activities, this guide will kickstart your journey to happier, balanced parenting.
What readers say about Mommy Overwhelm: "I love your sense of urgency on this issue – the way you talk about reaching out and getting the community you deserve. Too many times, women end up doing it all and struggling in silence. So many moms can "keep it together" but that's not the way to live. They deserve more help and more support."
20. Unique Parenting Tool: Sleep Talking Set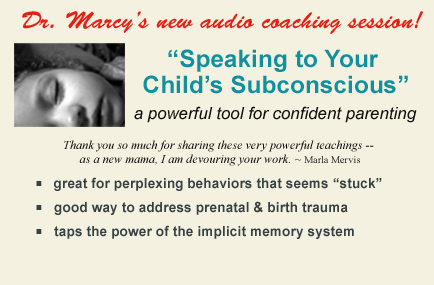 Marcy Axness, 3 page booklet, 75min. audio, value 13,95USD
Product description: This set includes the Dr. Marcy Audio Coaching Session "Speaking to Your Child's Subconscious" and companion eBooklet, A Unique 7-Step Parenting Tool: Sleep Talking.
Throughout my recent talks all over the world, what were SO many people interested in learning about? After hearing about the power of prenatal imprints, they wanted to know what parents could do when things didn't go so smoothly in pregnancy, birth or around conception. I make it clear that repair & healing are ALWAYS possible at ANY age, and mentioned an somewhat out-of-the-box approach I've developed over my years of coaching parents — which includes talking to your child in his or her sleep.
They were so keen to learn, that I put together this primer in the power of the subconscious mind — and how to use it to create healing change. This 75-minute presentation includes a powerful guided imagery to use the power of imagination in making positive changes to parents' own inner lives and childhood history. (It is an excerpt from / preview of the "Calm Authority for Parents" series.)
In this call Marcy shared examples of sleep-talking scripts that have been useful. I can tell you the impact was nothing short of profound, even to me as a listener.I found myself feeling very emotional and thankful as I gave thought to healing for my own family.
~ Kristi Saul, MEd, Director, Adoption Parenting Inner Circle
Special Bonus Freebie
21. The Mindful Mothering Challenge
Jennifer Saleem (Hybrid Rasta Mama)
This 57 page eBook takes mothers through 20 small steps designed to help them become more mindful mothers. Follow along with Jennifer's journey as you begin your own. The Mindful Mothering Challenge will awaken your mothering, push you beyond your comfort zone, and deepen your connection with your children.
22. API Live! Attachment Parenting International Teleseminar Series: "8 Principles of Attachment Parenting"
Teleseminar – (Attachment Parenting International), 2-hour recorded teleseminar; value $38 USD
Attachment Parenting isn't new. In many ways, it is a return to the instinctual behaviors of our ancestors. In the last sixty years, the behaviors of attachment have been studied extensively by psychology and child development researchers, and more recently, by researchers studying the brain. This body of knowledge offers strong support for areas that are key to the optimal development of children, summarized in API's Eight Principles of Parenting. Enjoy the exchange among the world's leading experts in AP discussing API's 8 Principles of Parenting, listen to their responses to questions of our time, and hear their answers to questions from the audience.
Panel experts include:
Dr. William Sears

Martha Sears

Dr. James McKenna

Ina May Gaskin

Dr. Isabelle Fox

Mary Ann Cahill

Barbara Nicholson

Lysa Parker
"AP is learning to read the cues of your child and responding appropriately. Open your heart and mind to the individual needs of your child. Let your knowledge of your child be your guide." ~Dr. Bill Sears
***
The Mindful Parenting eBundle is 22 amazing parenting resources for only $24.95 USD.
Authors include Teresa Graham Brett, Tara Wagner, Genevieve Simperingham, Marcy Axness, Amy Phoenix, and many more.
Get your bundle now!
This is your chance to learn more about playful parenting, peaceful guidance, mindful mothering, children and food, and many other hot parenting topics.
This bundle is a one-time opportunity, available only from May 28 to June 10. Purchase it now, because this deal won't come around again!