Mother's Day is a celebration honoring mothers and motherhood, maternal bonds, and the influence of mothers in society. It is celebrated on various days in many parts of the world, most commonly in March, April or May. – Wikipeadia
This year is Powerful Mothering's first time in mothers day and I really want to make it special!
We will be co-hosting 2 wonderful events! One of which is a Sharing is Caring Blog Hop.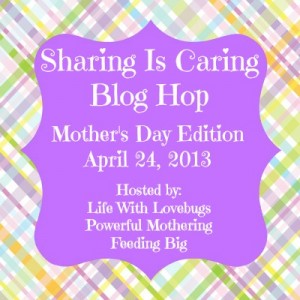 If you are new to blog hops, here is how it works: bloggers get together & decide the topic of the hop. Then they all agree to add a post about this topic on a certain day. All of the blog posts will include a linkup at the end with a list of the participating blogs for readers to check out. So the more blogs that participate, the more exposure your site gets! You can view an example of our last hop post here.
You can post a recipe, tutorial, craft, decorating idea – anything that has to do with Mother's Day (no giveaway posts, please). If you would like to participate, you can sign up below. The posts will go live on Wednesday April 24, 2013 at 6:00 am PST.
Once you have entered your info below, be sure to join the Facebook Group for this blog hop. This is where you will get updates, html, etc.



See you there!! If you would like to share this page or write a post about the blog hop, please feel free to do so! You can also grab the button here and add it to your sidebar. Remember, the more blogs that participate the more exposure we all get!